By jaimel | Posted in Community on Monday, March 19th, 2018 at 3:17 PM
Livestock, Food & Fun, oh my!
The smell of turkey legs coupled with the sound of carnival games and country music pierced the air at the 79th annual Mercedes Rio Grande Valley Livestock Show.  The 10-day event came to a close Sunday but gave the RGV some much needed family-fun for Spring Break.
Exotic petting zoos, pig races and the PRCA Rodeo were some of the highlights that made the livestock show the place to be! Live music from musicians such as Duelo, Cory Morrow and the Spazmatics gave individuals from across the Valley the opportunity to dance their boots off while others filled up on loaded baked potatoes, onion blossoms and loads of barbecue.
Local art from students across the area was also displayed at the Francis R. Cooper Event Center. Other events included auctions, scholarship awards and competitive exhibits.
The Payne Auto Group held their own booth with the REGARDLESS Wheel and the VIVA REGARDLESS slot machine present. Attendees could play either to try their luck at winning prizes which included redesigned t-shirts and lanyards as well as 50% off oil changes and coupons from the Premium Outlet Mall.
Kickin' the dust up!
Austin and Houston hanging out at Champs for Champions!
The REGARDLESS Wheel in action!
Bimmy hanging out with some fans!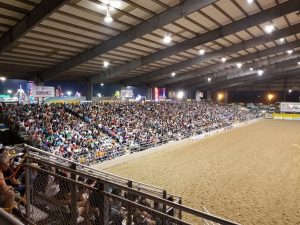 It's a packed house as the Payne Auto Group PRCA Rodeo went into action!
Be sure to check us out on our Facebook page for more photos and videos of the 79th Rio Grande Valley Livestock Show!